Findlay's premier towing company
Call today!
(419) 315-9968
Dick's has served the Findlay area's towing needs for more than 40 years with premium professionalism and complete customer satisfaction.  Our comprehensive roadside assistance is quick, affordable, and guaranteed to get you back on the road safely. Our staff's service-focused training guarantees that we set out to thoroughly serve your needs. Not only do we focus on customer service, but our 90-day training program ensures that any tow truck driver who arrives to assist you will understand any issues your vehicle is exhibiting, and handle your car with extensive care.
About

Dick's Towing

Our customers have been relying on great service from Dick's Towing since 1976. Locally owned and operated in Findlay, Ohio, you can rest assured that you will experience the highest quality help from our professional technicians.

Our "family attitude" helps us understand your situation and drives us to make your bad situation better by doing our job well, at a great value and as quick as possible. Our service technicians are devoted to maintaining the highest standard of integrity. Your satisfaction is our focus. Our goal is to reduce your stress so that your difficultly impacts you as little as possible.
Read More
How does it work?
Our process from start to finish!
Call (419) 315-9968
To request services
We tow, recover,
transport or service as needed
Payment accepted
On site and that's it!
Emergency vehicle towing,
whenever you need it
Breakdowns never happen at a convenient time, but with our 24-hour towing services for Findlay, we can assist you whenever bad luck strikes. Our dispatch operates at all hours, seven days a week. So when you call for help, someone will always be on the other end of the line with a solution. One of our 45-vehicle fleet is sure to arrive with the help you need within 30 minutes.
Whether you need your car towed or your vehicle is in need of serious recovery from an off-road incident, you can always rest assured that we'll use the same arsenal of tools with the same dedication to customer satisfaction at 2 am that we would at 2 pm. We also conduct roadside assistance at all hours, so we can get your vehicle back up and running in no time at any time.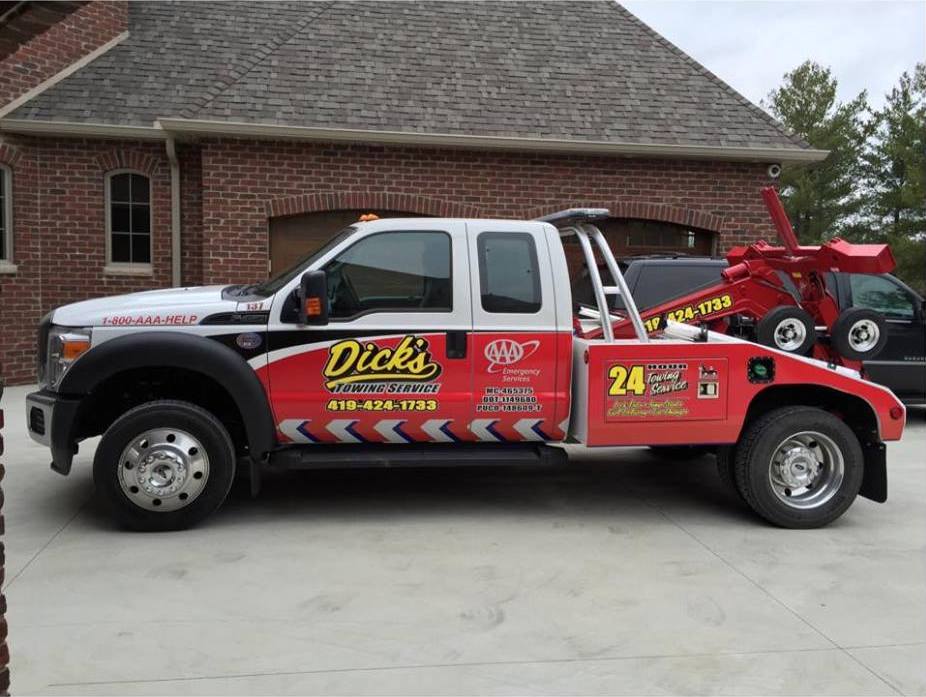 Comprehensive

roadside assistance for Findlay

Dick's offers a wide variety of towing services from light maintenance to heavy duty towing and roadside repair for anywhere in Findlay. We offer many more resources and aid than just simple towing solutions. Some of these expert services include:
Lockouts and jump starts – These issues seem minor, but we'll arrive within 30 minutes to pop your doors open or get your engine back up and running in a jiffy. Other quick fixes involve fuel delivery and electrical system maintenance
Vehicle Diagnostic – The computerization of most car systems has allowed diagnostic testing to quickly examine and locate engine issues with a computer-based checklist. Our years of experience guarantee we'll spot anything that's causing issues in your vehicle system, and this step allows us to find out even quicker.
Tire replacement and repair – As a national account member for Goodyear, Bridgestone, and Micheline, we carry an extensive line of tires and products from these top-tier brands. This massive inventory of premier tire and repair products will ensure we can solve any unexpected tire problems you've encountered. We can also retread tires and provide quality used tires when needed.
Preventative Maintenance – With an extensive training program and well-rounded, long-term experience, our technicians can spot red flags and smaller issues in your vehicle that can grow into larger, more expensive ones. We'll be sure to get you the maintenance you need to stop these problems in their tracks at the best price possible.
Annual Inspection – we'll be sure to keep any model vehicles up to state and federal regulatory standards. Each of our inspections follows a thorough process to guarantee your car is adequately prepared for all four seasons and usual wear and tear.
At Dick's Towing, we understand how stressful any car problems can be, and we approach each call with proactive and genuine care. Call us today, whether you've suffered a vehicle breakdown or for our wide range of other vehicle repair and maintenance services.
Dick's Towing Service
Frequently Asked Towing Questions
What types of towing services does a tow truck service offer?
A tow truck service can offer various types of towing services, such as emergency towing, long-distance towing, and flatbed towing.
What types of vehicles can a tow truck service tow?
A tow truck service can tow a wide range of vehicles, including cars, trucks, SUVs, motorcycles, RVs, and more.
Do tow truck services operate 24/7?
We are open 24/7 to provide emergency towing and roadside assistance around the clock.
Dick's Towing Service Is Proud To Be a Locally-Owned Towing Company In Findlay, OH
When you find yourself in a sticky situation on the roads of Findlay, Ohio, Dick's Towing Service is here to lend a helping hand. As a trusted local towing company, Dick's Towing Service has been serving the community since 1976, providing prompt and reliable assistance whenever you need it most.
Conveniently located in Findlay, the team at Dick's Towing Service is well-acquainted with the area, including local attractions like Oakwoods Nature Preserve, University of Findlay's Mazza Museum, and Hancock Historical Museum. Whether you're stuck in mud or facing a flat tire, our experienced team will swiftly respond to get you back on track, ensuring your outdoor escapades aren't hampered.
Directions To Dick's Towing Service
Your Search For A Towing Company Near Me Is Over
Dick's Towing Service takes pride in being an integral part of the Findlay community, offering our expertise to both locals and visitors alike. With our dedication to exceptional customer service and a deep understanding of the area's local roads and transit centers, including HATS Transportation and USA CAB LLC we are committed to ensuring that your journey through Findlay remains hassle-free, allowing you to create lasting memories at every turn.
Local Transit Directions To Dick's Towing
Our Tow Truck Drivers Proudly Service Many Neighborhoods In Findlay, OH, Including:
45840 45839 45816 45881 45858 45814 45889 45868 45841 44804
Read Some Of The Reviews From Our Local Customers
"My cargo van got a flat while on a highway exit ramp, I called my insurance, and they sent a tow truck to come and change the tire, the guy failed to do so and my insurance company had to call duck's Towing, Josh Clark arrived and was able to get the tire changed within 10 minutes."
Read More Reviews Here
"While enroute to FL along I-75 in Ohio, our car's engine light came on, and shortly thereafter the car lost power, so we immediately pulled it over and shut it off. Contacting the nearest brand dealer, it was decided to have it towed to their lot. Our insurance company arranged a Tow with Dick's and because of the number of tows before us, gave us an arrival time between 60-90 minutes. Within that time frame the truck arrived and two gentlemen (Wil and Matt) got out and immediately asked us if we were OK. They confirmed where it was to be towed, and then because of the low temps and high winds offered us shelter in their truck. We then proceeded to the dealer and after realizing we would be there overnight; these gentlemen recommended a variety of hotels at the next exit. After completion of our business with the dealer, these gentlemen retrieved our luggage, placed it in thir truck and drove us to the hotel. After arrival they carried our luggage in and waited until they were sure everything was arranged. These gentlemen at all times presented themselves as polite, professional, and an excellent representative of this service. If in need of a tow in the Findlay area, I strongly recommend Dick's and Wil and Matt for your needs."
Read More Reviews Here
We're Proud To Offer A Wide Range Of Towing Services, Including:
24 Hour Tow Truck
24 Hour Towing
Emergency Tow Truck
Emergency Towing
Roadside Assistance
Tow Truck
Towing Company
Towing
Towing Service
About Findlay, OH
Nestled in the heartland of America, Findlay, Ohio is a vibrant and welcoming community that captures the essence of small-town charm. With a population of approximately 42,000 residents, this picturesque city exudes warmth and a strong sense of community, making it an ideal place to live, work, and visit.
Findlay boasts a rich history that dates back to its establishment in the early 19th century. Steeped in tradition, the city maintains its historical charm through well-preserved architecture, quaint streets lined with trees, and a lively downtown area. Visitors can explore the Hancock Historical Museum, which showcases artifacts and exhibits that chronicle the area's past, providing a glimpse into the city's heritage.
Nature enthusiasts will find solace in Findlay's abundant green spaces and parks. The scenic Riverside Park, stretching along the Blanchard River, offers a tranquil retreat with its picturesque trails, playgrounds, and picnic spots. The nearby Oakwoods Nature Preserve provides a haven for outdoor activities, including hiking, bird-watching, and nature photography.
Findlay also boasts a thriving arts and cultural scene. The Marathon Center for the Performing Arts hosts a variety of concerts, theatrical performances, and art exhibitions throughout the year, showcasing local and national talent. The city's downtown area is dotted with boutique shops, charming cafes, and delectable restaurants, offering a diverse array of culinary delights.
With its friendly atmosphere, strong sense of community, and an array of recreational and cultural opportunities, Findlay, Ohio captures the hearts of residents and visitors alike. Whether you're seeking a peaceful getaway or a place to call home, Findlay welcomes you with open arms and promises an unforgettable experience.
Directions To Dick's Towing Service
See What Our Clients Are

Saying!
Top-Notch Service
This is the finest tow service in the Findlay-area. After my insurance provider told me I would have a 2+ hour wait, they said I could call a tow service of my choice and get reimbursed. My first call was to Dick's Towing. They arrived in 30 mins with a smile and great service. If it were possible to give a 6-star rating they would get it !
Bob Cook
They are Awesome!!!!
I was totally stranded in an unknown to me area. My call was answered on a Saturday afternoon with the reassurance that they can tow just about anything. I was in my motor home and that was encouraging. Help arrived and sure enough they towed me safely home with the tow truck driver being extremely courteous. I will and would highly recommend them to anyone and everyone. Thank you for being there for me.
Five stars are definitely deserved!!!!
Cherreen Thompson
Great Service
Picked up a screw somewhere and ended up with a flat tire. Called Dicks and the girl on the other end was very helpfull and nice. Josh showed up and had my spare on and found the nail in the flat tire in less than ten minutes and with a smile on a cold winter day!
….thank you very much! I am very happy with Dick's…you all are awesome!
Rhonda K Frost
Great Experience
My family and I had a great experience from Dick's Towing. The driver, JJ, was exactly the kind of employee this industry needs. He was courteous, helpful and delivered us safe and sound. Hopefully Dick's has other employees like JJ. He did a superb job taking care of my car, and family in a time of need. He has created some raving fans from this family from Windsor. Great job!
Chad Durocher
Our Truck Had A Breakdown
Our truck had a breakdown in Vanlue, Ohio. On our way from Upper Sandusky home. Our Tow driver Rich Dimond was courteous and brought us home to Pioneer, Ohio. He missed his son's winter concert to answer our call. Thank you so much. There are angels on earth.
Patricia Lee - Forry
My Son Had A Flat
My son had a flat and Brian did an excellent job called in advance and very quickly and professionally handle the situation. Even on a brutal cold morning he provided service with a smile.
Kurt Ohlrich