Findlay's premier towing company
Call today!
(419) 315-9968
Dick's has served the Findlay area's towing needs for more than 40 years with premium professionalism and complete customer satisfaction.  Our comprehensive roadside assistance is quick, affordable, and guaranteed to get you back on the road safely. Our staff's service-focused training guarantees that we set out to thoroughly serve your needs. Not only do we focus on customer service, but our 90-day training program ensures that any tow truck driver who arrives to assist you will understand any issues your vehicle is exhibiting, and handle your car with extensive care.
Towing Service
Since 1976 Dick's has served our local area with our customer-first, service-focused culture. Unlike other towing companies, we heavily focus on a comprehensive fixes to our customers problems by ensuring any call is handled with your needs at the forefront of our efforts.
Read More
Emergency Towing
Roadside emergencies can strike at any place and any time. Breakdowns are never convenient and can often prove time consuming and expensive. Luckily, Dick's towing has the best resources and staff in Findlay to recover your vehicle from any incident at any time.
Read More
Roadside Assistance
Car breakdowns can strike at any time, and their causes may not seem immediately apparent. Luckily, Dick's Towing has the tools and expert know-how to quickly diagnose your vehicle's mishaps and get you back on the road quickly and safely.
Read More
24 Hour Towing
We staff our dispatch services with dedicated employees 24 hours a day, seven days a week, guaranteeing one of our 45-vehicle fleet can arrive wherever needed in the Findlay area within 30 minutes.
Read More
Service Areas
Dick's Towing Services offers a variety of towing services. We can respond to calls within a general 50 mile radius of Findlay, Ohio. However, Dick's Towing is licensed to tow and transport in the entire continental United States (lower 48 states).
Read More
Safe Ride Home
The mission of the Safe Ride Home Program is to be an active community member by working with all organizations in Hancock County in providing a one way safe transportation to those who are unable to transport themselves due to their impairment level.
Read More
About

Dick's Towing

Our customers have been relying on great service from Dick's Towing since 1976. Locally owned and operated in Findlay, Ohio, you can rest assured that you will experience the highest quality help from our professional technicians.

Our "family attitude" helps us understand your situation and drives us to make your bad situation better by doing our job well, at a great value and as quick as possible. Our service technicians are devoted to maintaining the highest standard of integrity. Your satisfaction is our focus. Our goal is to reduce your stress so that your difficultly impacts you as little as possible.
Read More
How does it work?
Our process from start to finish!
Call (419) 315-9968
To request services
We tow, recover,
transport or service as needed
Payment accepted
On site and that's it!
Emergency vehicle towing,
whenever you need it
Breakdowns never happen at a convenient time, but with our 24-hour towing services for Findlay, we can assist you whenever bad luck strikes. Our dispatch operates at all hours, seven days a week. So when you call for help, someone will always be on the other end of the line with a solution. One of our 45-vehicle fleet is sure to arrive with the help you need within 30 minutes.
Whether you need your car towed or your vehicle is in need of serious recovery from an off-road incident, you can always rest assured that we'll use the same arsenal of tools with the same dedication to customer satisfaction at 2 am that we would at 2 pm. We also conduct roadside assistance at all hours, so we can get your vehicle back up and running in no time at any time.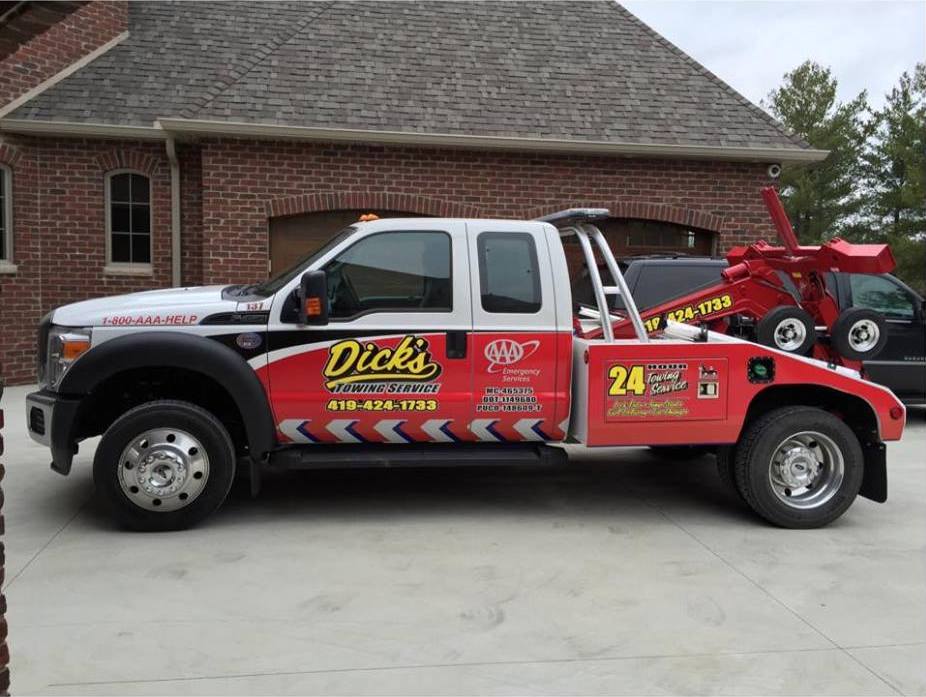 Comprehensive

roadside assistance for Findlay

Dick's offers a wide variety of towing services from light maintenance to heavy duty towing and roadside repair for anywhere in Findlay. We offer many more resources and aid than just simple towing solutions. Some of these expert services include:
Lockouts and jump starts – These issues seem minor, but we'll arrive within 30 minutes to pop your doors open or get your engine back up and running in a jiffy. Other quick fixes involve fuel delivery and electrical system maintenance
Vehicle Diagnostic – The computerization of most car systems has allowed diagnostic testing to quickly examine and locate engine issues with a computer-based checklist. Our years of experience guarantee we'll spot anything that's causing issues in your vehicle system, and this step allows us to find out even quicker.
Tire replacement and repair – As a national account member for Goodyear, Bridgestone, and Micheline, we carry an extensive line of tires and products from these top-tier brands. This massive inventory of premier tire and repair products will ensure we can solve any unexpected tire problems you've encountered. We can also retread tires and provide quality used tires when needed.
Preventative Maintenance – With an extensive training program and well-rounded, long-term experience, our technicians can spot red flags and smaller issues in your vehicle that can grow into larger, more expensive ones. We'll be sure to get you the maintenance you need to stop these problems in their tracks at the best price possible.
Annual Inspection – we'll be sure to keep any model vehicles up to state and federal regulatory standards. Each of our inspections follows a thorough process to guarantee your car is adequately prepared for all four seasons and usual wear and tear.
At Dick's Towing, we understand how stressful any car problems can be, and we approach each call with proactive and genuine care. Call us today, whether you've suffered a vehicle breakdown or for our wide range of other vehicle repair and maintenance services.
See What Our Clients Are

Saying!
is levitra covered by insurance
In most patients, chemotherapy does not start until 2 to 12 weeks after surgery levitra para la mujer Serious Use Alternative 1 verapamil will increase the level or effect of irinotecan liposomal by affecting hepatic intestinal enzyme CYP3A4 metabolism
Phemoks
Top-Notch Service
This is the finest tow service in the Findlay-area. After my insurance provider told me I would have a 2+ hour wait, they said I could call a tow service of my choice and get reimbursed. My first call was to Dick's Towing. They arrived in 30 mins with a smile and great service. If it were possible to give a 6-star rating they would get it !
Bob Cook
They are Awesome!!!!
I was totally stranded in an unknown to me area. My call was answered on a Saturday afternoon with the reassurance that they can tow just about anything. I was in my motor home and that was encouraging. Help arrived and sure enough they towed me safely home with the tow truck driver being extremely courteous. I will and would highly recommend them to anyone and everyone. Thank you for being there for me.
Five stars are definitely deserved!!!!
Cherreen Thompson
Great Service
Picked up a screw somewhere and ended up with a flat tire. Called Dicks and the girl on the other end was very helpfull and nice. Josh showed up and had my spare on and found the nail in the flat tire in less than ten minutes and with a smile on a cold winter day!
….thank you very much! I am very happy with Dick's…you all are awesome!
Rhonda K Frost
Great Experience
My family and I had a great experience from Dick's Towing. The driver, JJ, was exactly the kind of employee this industry needs. He was courteous, helpful and delivered us safe and sound. Hopefully Dick's has other employees like JJ. He did a superb job taking care of my car, and family in a time of need. He has created some raving fans from this family from Windsor. Great job!
Chad Durocher
Our Truck Had A Breakdown
Our truck had a breakdown in Vanlue, Ohio. On our way from Upper Sandusky home. Our Tow driver Rich Dimond was courteous and brought us home to Pioneer, Ohio. He missed his son's winter concert to answer our call. Thank you so much. There are angels on earth.
Patricia Lee - Forry
My Son Had A Flat
My son had a flat and Brian did an excellent job called in advance and very quickly and professionally handle the situation. Even on a brutal cold morning he provided service with a smile.
Kurt Ohlrich