About Dick's Towing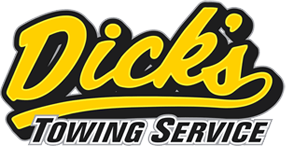 Our customers have been relying on great service from Dick's Towing since 1976. Locally owned and operated in Findlay, Ohio, you can rest assured that you will experience the highest quality help from our professional technicians.
Our "family attitude" helps us understand your situation and drives us to make your bad situation better by doing our job well, at a great value and as quick as possible. Our service technicians are devoted to maintaining the highest standard of integrity. Your satisfaction is our focus. Our goal is to reduce your stress so that your difficultly impacts you as little as possible.
Dick's Towing Services has long been known for exceeding our customer's expectations. One of the results of being "in the neighborhood" for so long is that our customers are glad to see Dick's Towing pull up at the accident site, because they know that they will be treated with the level of service they have come to know and expect.
Dick's Towing Service
4404 Allen Township 142 #1
Findlay OH 45840