Hancock County's Quality Towing Company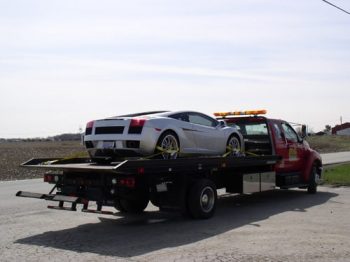 Dick's has served Hancock County's towing needs for more than 40 years with premium professionalism and complete customer satisfaction. Our comprehensive roadside assistance and efficient towing services are quick, affordable, and guaranteed to get you back on the road safely. Our staff's service-focused training guarantees that we set out to thoroughly serve your needs. Not only do we focus on the quality of customer service, but our 90-day training program ensures that our licensed towing professionals who arrive at the scene will understand any exhibiting issues from your vehicle, and handle your car with extensive care. Call us today for Towing Hancock County can count on.
Professional Towing Services, Whenever You Need It
Breakdowns never happen at a convenient time, but with our 24-hour towing services for Hancock County, we can assist you whenever bad luck strikes. Our dispatch operates at all hours, seven days a week. So when you call for help, someone will always be on the other end of the line with a solution. One of our extensive fleet comprising 45 vehicles will arrive with the help you need within 30 minutes. Whether you need winch-out services, medium duty towing or heavy-duty roadside assistance, you can always rest assured that we'll use the same arsenal of tools with the same dedication to customer satisfaction at 2 am that we would at 2 pm.
Hancock County's First Choice for Comprehensive Road Service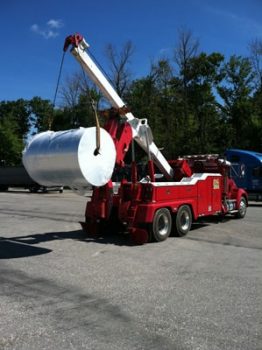 Dick's doesn't just offer reliable towing services. We avail ourselves to a wide variety of roadside emergencies from light maintenance to heavy duty towing to roadside repair for anywhere in Hancock County. We conduct emergency roadside assistance at all hours, so we can get your vehicle back up and running in no time at any time. Some of these expert services include:
     
Lockouts, Gas Delivery and Jump-Starts – These issues seem minor, but we'll arrive within 30 minutes to pop your doors open or get your engine back up and running in a jiffy. Other quick fixes involve fuel delivery and electrical system maintenance.

     

Vehicle Diagnostic – The computerization of most car systems has allowed diagnostic testing to quickly examine and locate engine issues with a computer-based checklist. Our years of experience guarantee we'll spot anything that's causing issues in your vehicle system, and this step allows us to find out even quicker.

     

Tire Replacement and Repair – As a national account member for Goodyear, Bridgestone, and Micheline, we carry a large line of tires and products from these top-tier brands. This massive inventory of premier tire and repair products will ensure we can solve any unexpected tire problems you've encountered. We can also retread tires and provide quality used tires when needed.

     

Preventative Maintenance – With an extensive training program and well-rounded, long-term experience, our technicians can spot red flags and smaller issues in your vehicle that can grow into larger, more expensive ones. We'll be sure to get you the maintenance you need to stop these problems in their tracks before they stop you at the next repair shop. We promise  at the best price possible.

     

Annual Inspection – we'll be sure to keep any model vehicles up to state and federal regulatory standards. Each of our inspections follows a thorough process to guarantee your car is properly prepared for all four seasons and usual wear and tear.
Locally-Owned and Operated in Hancock County
We've been servicing a 50-mile radius from Findlay for nearly 40 years and we've come to care for the region's residents like our own friends and family. We know Hancock County like the back of our hands and we know how to get to commuters or travelers in the fastest most effective ways possible with the best vehicle solutions in the area. Call us whether you've suffered a vehicle breakdown or in need of emergency roadside assistance services, we provide a wide range of aid for the stranded driver. Make Dick's Towing Service your trusted towing partner today!