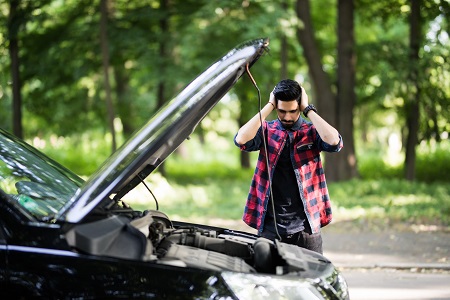 When you live in a rural setting like Hancock County, you never know what might happen on the road. While roads might be emptier than a big city's, that doesn't mean they're safer. Natural hazards like animals crossing the road, heavy snowfall or rainfall, vehicle breakdowns and more are all possibilities. To counteract these possibilities, it's best to have the contact information for Dick's Towing, the only 24-hour towing service in Hancock County, Ohio, that can serve residents from Lima to Toledo to Upper Sandusky.
But knowing what constitutes a time to call for professional towing services and what doesn't can be a tricky thing. Dick's Towing does more than just tow you to where you need to go in the event of an accident. So with that in mind, our newest blog post is here to present seven reasons why you should call Dick's Towing for 24-hour towing in Hancock County.
When Your Car Gets Into a Collision
Okay, okay, this is definitely a no-brainer. But then again, when collisions happen, the brain can be rattled somewhat, to put it mildly. So once you've called emergency services, made a status on every passenger and swapped insurance information in case of a two-car collision, it's always a great reminder that you can call a towing service like Dick's Towing no matter the hour of the accident.
Because we're a 24-hour towing service, that means we can tow your car and any other cars to the nearest mechanical garage for repairs. We even offer our own in-house repair shop in order to see what happened to your vehicle. Sometimes, it's just a dust-up, and there is no underlying damage. Other times more intensive repairs are lurking. Regardless, it's always a great idea to call someone who can provide you with a tow truck to get you to the nearest professional mechanic.
When Your Car Breaks Down
Sometimes your car just stops working, no collision needed. Maybe the transmission is struggling, or perhaps the radiator is leaking. A professional towing company that operates around the clock can take it to the nearest mechanical garage for repairs, regardless of the problem or the hour.
Having a heavy-duty towing company on call is particularly important for semi-truck drivers. When you need to deliver cargo on a deadline, knowing Hancock County's quickest recovery experts to contact is invaluable. Our efficient roadside service is ready for you!
Most often, these breakdowns are simple fixes, but in the case of more serious mechanical damage, we can work with your insurance company to make sure you don't get stuck with too many bills. Day or night, we are committed at Dick's Towing to make sure you get the help you need!
When Your Dashboard Warning Lights Are Flashing
When your dashboard starts flashing warning lights, it can be a bit scary. Sometimes it's hard to remember what all of these lights mean, especially the more infrequent ones. Other times, the car might be signaling a false positive. But how can you know that?
With a 24-hour towing service like Dick's Towing, you can diagnose the warning lights and if they're telling the truth with our excellent roadside assistance. Our dispatch is always on call for even these seemingly trivial issues. The thing is, if we leave them unattended for long, they become something far more serious.
Sullivan Tire has a great list of common and uncommon dashboard warning lights here for the curious. With this information, you can adequately explain what your vehicle is telling to our dispatch center. So when that red warning light comes on, don't hesitate to call us and get a full diagnostic of the situation quickly and at your location.
When You've Blown a Tire
Perhaps the most common reason someone would call for roadside assistance from a 24-hour towing service is to replace or repair a flat tire and get the car back on the road. We all know there are many things people need to keep in their cars. Most cars even come with their own jacks provided by the manufacturer.
But if you've never changed a tire, it can be pretty daunting. 24-hour tow trucks can provide the assistance you need to get your car back on the road. We can also provide a wide variety of tire replacement options and services if you don't have a spare in the trunk of your car. Either way, Dick's Towing has you covered.
When You've Locked Yourself Out
Sometimes our brains just don't work the way they should. We forget that we left our keys in the car, and now we're stuck outside of it. Drat, blast and argh, it's okay to be frustrated! But once we've realized our silliness, it's even better to remember we were prepared for this kind of situation. Whether you've accidentally locked yourself out or had your keys stolen, a 24-hour tow truck from Dick's Towing can come to your rescue.
At Dick's Towing, we specialize in helping people get back into their cars without damaging them. We'll bring along some tools that are non-destructive and helpful so that you can get back into your vehicle as quickly as possible. So you don't have to worry about being stranded for long. Call us, and we'll be there for you!
When You've Run Out of Gas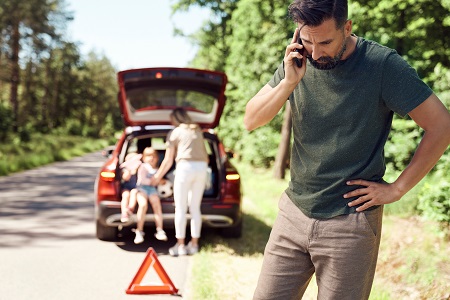 Running out of gas can happen to anyone, but it's especially common for people whose vehicles have been parked for a long time. We've all heard the myths about how much fuel is left at the bottom of an empty tank and some that suggest you should just keep driving if your needle is in the red–these are wrong!
If you're out of gas, call us at Dick's Towing to get back on your way. We'll bring enough gasoline or diesel with us so that you can drive off the tow truck and make it to the nearest station. This way, you won't have to worry about getting stranded in a strange place late at night while waiting for someone else to help you out.
When Your Battery Dies
Car batteries tend to go out when we least expect it or, even more likely, when we most forget to turn off the electronics inside like lights, radio or climate control. And if you're stuck in the middle of nowhere, without a jump, this can be a scary situation. For all we know, this might have been the battery's last straw before giving up entirely.
But with Dick's Towing, you can rest easy knowing that our 24-hour tow truck will come to save you and your car battery. We have the cables that allow us to jumpstart your dead battery so that you can get back on the road quickly and safely. If your battery needs replacement, we can bring a replacement to you! So don't fret; Dick's Towing has the safety net.
Whichever Your Car troubles, Dick's Towing is Here to Help
No matter what kind of emergency roadside assistance you may need, Dick's Towing is here for you! Our technicians are licensed towing professionals who are knowledgeable about every aspect of vehicles and their issues. With years of experience in the industry, we know how to handle any problem that arises on the road. So when you need 24-hour towing in Hancock County, Ohio, you need Dick's Towing. Contact us today via our website, or call us at (419) 315-9968.