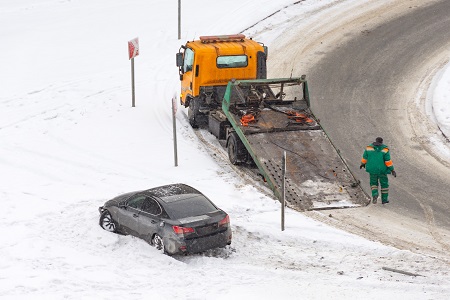 It's funny how often the simplest of tasks can be made complicated by how rare they occur. Calling a tow truck is no exception, mainly because it's never at a convenient time. The last time you probably needed one was so long ago it's hard to remember what information a tow service needs to know for a quick response and efficient solutions.
Dick's Towing is here to give you the basic list when contacting an emergency towing service in Findlay, Ohio (are anywhere else in the United States, really). Read our blog and write down a handy checklist to keep in your vehicle's glovebox. Should you ever be stuck and in need of roadside service, you'll know exactly what to say when calling a tow truck.
Have You Been in an Accident?
Before we start, it's important to make sure our priorities are in order. If you've been in an accident, it is paramount that you call emergency services first. People take precedence over property and we want to make sure drivers and passengers receive the medical attention they made need in the event of a collision.
Call the towing company only after you have made emergency services aware of the accident. Let the tow truck dispatch know you've been in an accident. This will allow the tow truck to avoid any potential hazards and take the necessary safety precautions to respond to the scene.
The Basics: Name, Phone Number and Location
When calling a towing service like Dick's Towing, it is important to provide the company with some basic information like your name, phone number and the exact location of where the tow truck needs to be dispatched. If you are unable to provide an exact address or cross streets, try to give as much detail as possible such as landmarks, signs or other recognizable points.
In order to ensure that you receive quick and efficient service, it is important to provide an accurate description of your situation and any potential hazards that might need addressing. This includes informing the dispatcher if your vehicle requires a flatbed tow truck, as well as if there.
What Type of Vehicle Are You Driving?
Be clear about what kind of vehicle you have so the tow truck driver knows what equipment to bring. While giving a brand and model works, it's more important to know the vehicle type. This information will give the dispatcher an idea of whether your vehicle requires a light-, medium- or heavy-duty tow truck or a flatbed tow truck from their fleet of vehicles.
Here's a handy guide for what vehicle goes with its requisite specialized transportation:
Light Duty Towing: Small to medium-sized cars, pickup trucks, hatchbacks and small SUVs
Medium Duty Towing: Larger SUVs, mid-sized commercial vehicles and vans
Heavy Duty Towing: Semi-trucks, buses, tractor-trailers and other larger vehicles
Flatbed Tow Truck: Any vehicle that is unsafe to tow with a conventional tow truck, such as motorcycles or kit cars
What Dashboard Lights Do You See?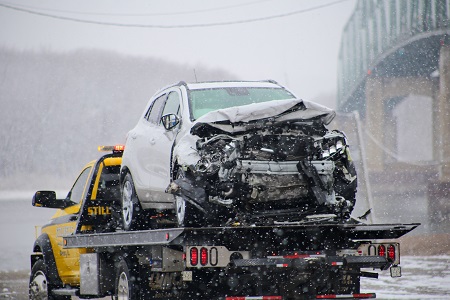 In order to ensure that you receive quick and efficient service, it is important to provide an accurate description of your situation and any potential hazards that might need addressing. Let the towing company know what lights are on in your dashboard so they can be prepared for any potential issues.
GoFar provides a handy guide for deciphering dashboard warning lights here. When the tow truck driver arrives, they can transport you to a location for diagnostic testing. If the problem is simple, such as a dead battery, flat tires or an oil change service, they can probably handle it on location.
Additional Information
If you have an emergency roadside service plan, let the dispatcher know so they can better serve your needs. If applicable, provide the dispatcher with membership numbers and information about how to access your account for payment processing.
The final piece of information to provide when calling a towing service is whether you have any additional tools or equipment, such as dollies or wheel lifts. While not entirely necessary for the job (tow companies will usually provide these types of tools), this does give your tow truck more effective solutions for extracting your vehicle.
Stuck In The Snow? Call For An Emergency Tow!
No matter what emergency towing situation you're in, Dick's Towing is here to help. Our team of dedicated dispatch staff and trained professionals are available 24/7 to provide high-quality roadside and towing services in Findlay, Ohio and its surrounding areas. Give us a call today at (419) 315-9968 and let our expert experience deliver the help you need and a response time that will impress!