There's no end of reasons as to why a car breaks down. From snapped timing belts and blown radiators to snapped CV joints and blown transmissions, one could argue that there's as many reasons for a breakdown as there are parts inside a car. One of the more serious reasons is total engine failure. The more sudden the failure the more dangerous the situation for the driver and passengers. Other factors that make for a more dangerous situation include stopping on a busy highway or a multi-lane highway.
Five Tips For Handling Vehicle Breakdowns
Knowing how to react to a vehicle breakdown can alleviate a stressful situation and avoid an accident scene. Note that this is different from our "Check, Call, Collect" routine for collisions. However, there is quite a bit of crossover, vehicle breakdowns are just simpler affairs than accidents. Nonetheless, Dick's Towing is here to provide you with everything you need to do in the event of a mechanical breakdown so you can begin proper emergency roadside assistance protocols without majorly affecting the flow of traffic or causing a crash scene. Read on for our basic tips and tricks.
Move Your Car to the Shoulder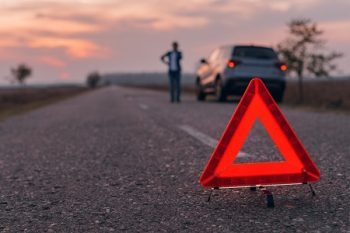 In the event of a breakdown, it is important that the disabled vehicle is moved to the side of the road as quickly as a possible in order to avoid hindering the flow of traffic or causing a bigger accident. Moreover, once on the side of the road, it will be much safer to setup safety equipment and roadside assistance vehicles to attend to the car. If you cannot mechanically drive the car to the side of the road, put the emergency lights on, place the car in neutral gear and move it physically. If you cannot move it alone, then you will need to ask for help. If you cannot find help, you have already done due diligence and can start setting up safety equipment.
Set Up Your Safety Equipment
Safety equipment includes hazard lights, reflective triangles, flares, and so on. Every car should have these in an emergency kit for such situations and they should not just contain the aforementioned items, but other utility pieces as well. Jumper cables, flashlights, air pressure gauges, and an OBD2 (On-Board Display 2) reader are all vital pieces to an emergency kit for servicing a car. However, it is important to consider human needs as well. Make sure to have plenty of snacks and drinking water during long roadtrips or commutes. Breakdowns often delay the next meal and hunger and thirst can fog the senses in a situation that requires clarity and presence of mind.
After this all done, stay in your vehicle. One of the most dangerous places on the road is just outside your vehicle. Many tow truck operators, law enforcement officers and civilians die on the side of the highway due to a careless hit-and-run driver. Avoid these situations by remaining in the vehicle.
Call a Trusted Tow Truck Company
Knowing who to call for roadside assistance is an important piece of information to have as a driver. Especially when driving through the more rural, less urbanized counties of Ohio. No two wrecker companies are the same and tow truck operators often offer different services depending on the class of vehicle. For example, some companies may only offer towing for heavy-duty semi-trucks, but will not service regular automobiles.
When looking for a towing company you can trust, skim through their service pages to see exactly what they offer and which areas they service. In Hancock County, Dick's Towing Service has built a trusted network to serve everything from eighteen-wheelers to passenger vehicles and provide quality roadside assistance everywhere from Lima to Marion or Bellefontaine to Toledo.
Call Your Insurance Company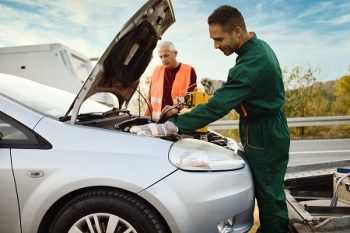 Once you've secured a tow truck operator en route to your location, it is time to call the insurance representative to inform them that a claim will be made. Your insurance coverage should have a set of auto repair shops available in network. Some towing services offer an in-house auto repair facility as well, but you are not obliged to use it. Work with your auto insurance policy to keep out-of-pocket expenses to a minimum and find yourself an automotive repair expert in-network. Not all breakdowns mean the car has been totaled, explain to the insurance agent what happened, where and when. Give as many details as possible so the claim leaves no stone unturned.
Stay In Your Vehicle
Once your insurance agent receives all the details, it is time to start collecting smaller personal belongings in the car. Make sure to empty the glovebox, any side compartments and the center console. If there are larger items in the trunk or backseats, those can wait for a ride back home. What's most important is collecting all of your items into one place and then staying put. Once again, staying in the vehicle is the safest thing to do on a highway. Let the metal cocoon take the beating of a careless driver, not you. Keep your phone ready, but do not let the battery die in order for the tow truck operator to contact you as they reach your location.
Dick's Towing Service Provides Comprehensive Roadside Assistance
Are you looking for a tow truck business near Findlay, Ohio? Dick's Towing is Hancock County's trusted towing operators and automotive technicians, serving a 50 mile radius from our headquarters just north of Findlay. Our business offers emergency roadside assistance for fuel deliveries, tire repair and winch-outs, along with towing and other services. Give us a call today and experience the peace of the mind that comes with a premium towing service.