You may not realize it, but you can learn a lot about someone by looking in their car. What do they like to eat? Do they wear heels or flip-flops? Are there kids' toys and snacks scattered on the back seat? These things all depend on the day and the passengers. However, every driver should have a kit in their car made specifically for roadside emergencies.
So what should you keep in your car for when an emergency happens at the side of the road? There's a lot to remember, especially if you are a first-time car owner or driver, more than just having your license, registration and insurance information. But even professional drivers could do with a reference list to ensure their emergency car kit is up to snuff. We've compiled a list of emergency essentials to have in your kit. Hopefully, these tips will prepare you for anything, but in case you find yourself in need of a lift, Dick's Towing is here to help you to find your way home.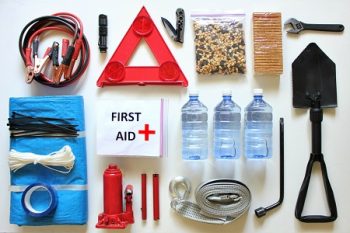 Driver and Vehicle Information
License
Registration
Insurance
Owner's Manual
State Driver's Manual
Contact information for your roadside emergency service–Dick's Towing!
This goes with out saying, but in the event of a collision, accident or breakdown, you always want to have your license, registration and insurance available in your car. The car owner should always be the person that has this information because if you get pulled over and cannot produce these documents, you may end up accused of something worse than a speeding ticket.
Of course having an owner's manual is also essential when trying to troubleshoot car issues and understand the lights on your dash. Furthermore, having your state driver's manual is also a handy reference in case of a refresher of what to do in case you are experiencing an emergency. It can outline where to set the flares and safety reflectors to keep other drivers aware and your passengers safe.
Moreover, if you find yourself facing a problem you can't fix then it's time to contact your roadside assistance service. Keeping a contact card for Dick's Towing Service in your car means you will be prepared when you need a lift near Hancock County.
Basic Car Repair Tools
Jumper Cables
Portable Car Battery Chargers
Tire Pressure Gauge
Spare Tire
Tire Jack
Lug Wrench
Flashlight
Reflective Triangles
Road Flares
When it comes to basic car repairs, there are some problems any driver can learn to fix. If you want to remedy issues like flat tires and dead batteries, the supplies are readily available. What you will need to solve a dead battery are jumper cables and a portable car battery charger. In order to change a flat tire, you will need a spare tire, tire jack, lug wrench (also called a tire iron) and tire gauge.
Car manufacturers frequently provide the spare tire and tire jack, but the lug wrench and tire pressure gauge will need to be purchased by the driver along with flashlights, reflective triangles and flares. These last two in particular should be purchased posthaste. Even if you don't have the tools or know-how to fix a certain issue, it's an obligation to alert other drivers that your car is a road hazard. If you need a refresher on what to do after a car breakdown, read more here.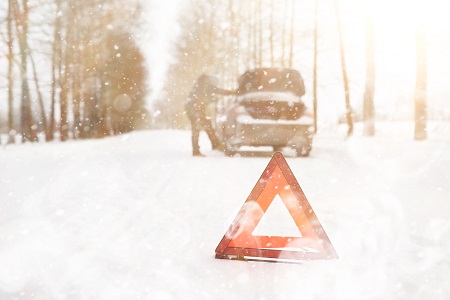 Passenger Supplies and Amenities
First Aid Kit
Energy Food
Water
Blanket/Warm clothing
Hand warmers
Portable phone charger
Extra batteries
Firstly, a First Aid Kit should be kept in case of emergency in every vehicle. You never know when something might happen in your car that may result in a minor injury. While you may not be able to treat major injuries, those minor bumps, bruises and cuts are easily treatable. Once you are stuck in a spot for a while waiting for help, however, you'll itch for the basic creature comforts of home.
Having granola bars will hold you over until your roadside service agent arrives. Bottled water will help combat dehydration. In case of cold weather, keeping warm with a blanket and handwarmers is also recommended. A rain poncho will also help in the event of rain. Packing a car with a portable phone charger is also good recommended. Some of the same portable car battery chargers are usually sold with USB and power sockets. They allow charging not just the car battery but phones and other devices. However any cell phone charger that keeps you available for contact while your help arrives will work.
Need Emergency Roadside Assistance?
While having an emergency kit in your car is great for immediate relief, it won't solve the actual emergency situation. That is why it's important to know your roadside assistance number so you can get your car up and running or taken to the nearest automotive repair shop. If you're near Hancock County in Ohio, call Dick's Towing Service! We can troubleshoot and pick up any vehicle stuck as far as Lima or Toledo at all hours, every day of the week. Count on us to make it to your location quickly and to fix your issue expertly.