Towing Service
Ed's 24 Hour Service has served the Findlay area for nearly 40 years with complete towing service for any and all commercial roadside needs. Our large fleet of vehicles and on-call staff ensures premium services for any commercial breakdowns, maintenance, or moving.
Emergency Towing
We are the first call for Findlay's emergency repairs when it comes to dealing with major vehicle breakdowns, such as RV towing or Motorhome towing. With our experienced staff, extensive towing fleet, and our massive inventory of commercial repair equipment, we know we can solve any and all of your emergency towing needs.
Commercial Tow Truck
Ed's 24 Hour Service knows the local Findlay area like the back of our hands. We have regularly served residents here as if they were our own friends and family for nearly 40 years now. At this point we've become Findlay's first call when it comes to immediate roadside assistance for commercial vehicles.
Commercial Tow Truck services for all of Findlay
For nearly 40 years, Ed's 24 Hour Service has served as the premier towing and recovery experts for all of Findlay's heavy duty vehicle and machinery emergencies. Our towing service focused culture and training ensures that we quickly determine the best solutions to your needs and serve them up with unparalleled customer service at a moments notice.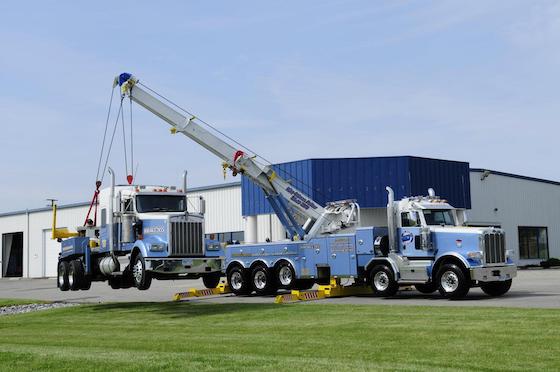 Always Available Emergency Towing
Our dedicated dispatch towing service team answers calls 24 hours a day, seven days a week, so no matter what time your heavy duty situation strikes, we'll help you out calmly, quickly, and efficiently. Whether your semi truck was in an accident or your heavy duty construction vehicle is stuck, we have the arsenal and the know-how to get you the maintenance, removal, and repair services you need. When your looking for a towing near me service, we are always available close by, and we're just a call away, so contact Ed's 24 Service today!
How does it work?
Our process from start to finish!
Call (419)424-1733
To request services
We tow, recover,
transport or service as needed
Payment accepted
On site and that's it!
Get More Road

Services

Ed's comprehensive towing services cover your complete commercial roadside assistance needs. From towing to roadside repairs, we get your heavy-duty vehicles back on the road quickly and safely. When your large vehicles run in to roadside troubles, there's no better all-hours service than Ed's!
About Ed's 24 Hour Service
Ed's 24 Hour Service has been serving the needs of the Findlay, Bluffton, Upper Sandusky and Marion, Ohio communities since 1970. Our well trained, professionally certified technicians provide you, our customer, with the highest quality of roadside assistance in your time of need. We have been recognized by several national trucking companies and have been awarded a perfect rating of 10. We specialize in providing an efficient, quick response without sacrificing quality, while saving you time and money in all your transport and repair needs.
Our decades of experience in heavy truck and auto towing and repair are the foundations which give us the understanding of exactly what you need and want. We do our job well, as quick as possible, and at a great value. Our towing service technicians are devoted to performing at the highest standard of integrity and quality, set by the reputation of Ed's 24 Hour Services.
24 Hour Road

Services

Ed's staffs our phone lines at all hours of the day to ensure you receive fast and reliable heavy-duty towing service.  Whether you need commercial towing or roadside assistance, our services are just as efficient at 2 am as they are at 2 pm. We are there to help whether you are in 45840, 45839, 45816, 45881, 45858, 45814, 45889, 45868, 45841, 44804, 45890, 45867, 45872, 43529, 45897, 44802, 44817, 45877, or even 45817 look no further, we are ready to take your call!
Findlay's Comprehensive Emergency Roadside Service
Ed's 24 hour services boasts a large and extensively experienced staff to thoroughly handle any heavy duty towing needs. Our technicians undergo a 90 day training program to guarantee we offer you the fullest and most effective roadside assistance services possible. Our equipment and skills allow us to handle much more than towing your immobilized vehicle. The full scale of our services includes the following:
Heavy Duty Towing (Semi Trucks, RV Towing, Motorhome Towing, etc.)
Recovery Towing Near Me
Transportation
Full Service Repairs
Roadside Assistance
Heavy Duty Towing, Recovery, and Transportation
Our equipment allows us to carefully and quickly handle the movement of any large trucks or displaced cargo and equipment from wrecks or accidents. We use a rotator that easily handles up to 75 tons, allowing us to move any semi or construction equipment. We'll be sure to pull your vehicle of any kind from a wreck or stuck location, move it safely, and offer other repair or maintenance services to get you back on the road.
Our large tow truck fleet also includes transportation semi-trailer trucks that can transport anything from large construction equipment to trucks and vehicles. We also handle motorhome towing and RV towing. We'll move your property to and from anywhere in Findlay with care, speed, and protection.
Full Service Repairs and Roadside Assistance
In addition to moving your vehicle and property we can perform roadside maintenance and repairs on larger vehicles like semi trucks. We use a massive multi-passanger vehicle to conduct these repairs and arrive equipped with heavy duty equipment for any situation. Some of these additional roadside assistance services include:
Tire repair and replacement – As a national account for Bridgestone, Michelin, and Goodyear, we're equipped with a massive inventory of tires that can replace any blowouts or damaged tires. We also offer used tires, recapping, and roadside repair for any of your tire-related needs.
Fuel delivery, lockout, and jump starts – Minor obstacles strike at the worst times. Let us quickly solve these mishaps by delivering your fuel, jumping your battery, or popping the locks on your larger vehicle. We'll have you back to a smooth ride in no time.
Repair shop services – For damages and repairs that can't be performed at your roadside location, we can transport your vehicle to our repair shop for more extensive projects. We also offer maintenance services for everything from engine repair to electrical system services. Visit our shop for quick and easy computer diagnostic testing to thoroughly check and fix any hiccups in your vehicle's system before they become expensive problems.
Ed's 24 Hour Service is Findlay's first call when it comes to immediate roadside assistance for commercial vehicles. Call us at any hour, and we'll arrive anywhere within the complete 50 mile radius of Findlay in a matter of 30 minutes. No need to ever be stranded on the highway again.
See What Our Clients Are

Saying!
Tow Service
Service was well above 5 stars. Broke a ball joint turning around in a driveway and Ed's driver was super helpful. He made sure there was no further damage to my jeep while loading and unloading it on the bed and let my family sit in the truck since it was so cold out. Exceptional service and I sure appreciate the help!
Jennifer Siler
Outstanding
This service is beyond outstanding!!! Most definitely recommend!!!
Kyla Marie
Locked My Keys In My Trunk
Locked my keys in my trunk today at work, called AAA and was told it would be 30 minutes to an hour, which I expected since my experience in the past with AAA is they tell you an hour and normally turns into 2-4. However within 10 minutes of calling James Andrews called me and was there and had my car unlocked within 15 minutes of my initial call for help!!! Definitely keeping this contact information on hand for the future. Thank you so much for great, fast and friendly service!!!!
Amy Thorton
If you ever need a tow!
If you ever need a tow! My company of choice! We even laughed through the ordeal! And they took super good care of me! And unfortunately I don't remember my drivers name, but she's the only girl in a 4 county area!
Laura Ruth Carey
Ed's Is At The Top…
I have worked at various shops but ed's is at the top. The working relationship between marion and upper sandusky shops is unsurpassed. We have each others back in getting the job and satisfying the customer to the best of our abilities.
Arvil Hutchinson
Ed's 24 Hour Service
Frequently Asked Questions About Towing
Does insurance cover towing services?
Some insurance policies may include roadside assistance or towing services, but it's important to check with your insurance provider to confirm coverage.
Can a tow truck take my car if I'm not there?
In most cases, a tow truck can only take your car if it is illegally parked or if you have given permission for it to be towed. If your car is towed from private property, you should receive notice before it is removed.
What should I do if my car breaks down on the highway?
If your car breaks down on the highway, pull over to the side of the road as far as possible and turn on your hazard lights. Stay in your car with your seatbelt fastened until a tow truck or other assistance arrives.
Ed's 24 Hour Service Is Proud To Be A Locally-Owned Business In Findlay
Nestled in the heart of Findlay, Ohio, Ed's 24 Hour Service has been a cherished community partner for years. As a locally-owned and operated company, we take pride in serving the vibrant Findlay community and its visitors around the clock.
At Ed's, we understand the importance of convenience and reliability, especially in a town brimming with attractions like Oakwoods Nature Preserve, the University of Findlay's Mazza Museum, and the Hancock Historical Museum. Whether you're exploring the serene trails of Oakwoods, immersing yourself in the world of children's literature at Mazza, or delving into the rich history of Hancock County, you can count on Ed's to be there when you need us most.
Our dedicated team is always ready to assist you, day or night, ensuring you have peace of mind as you explore the treasures of Findlay. From emergency services to routine maintenance, Ed's 24 Hour Service is here to make your local adventures even more enjoyable.
Discover the difference of having a trusted local partner by your side – Ed's 24 Hour Service, your reliable companion in the heart of Findlay, OH!
Direction to Ed's 24 Hour Service
Your Search For An Experienced Towing Service Near Me Is Over
Proudly based in Findlay, Ohio, Ed's 24 Hour Service is your go-to locally-owned company offering a comprehensive range of services, including Towing Service, Emergency Towing, and Commercial Tow Truck solutions. When it comes to getting you back on the road or assisting with your commercial towing needs, Ed's is your trusted name in town.
We understand the importance of being there when you need us, especially with Findlay's bustling local bus stops just around the corner. Whether you're catching a ride with HATS Transportation, hopping into a USA CAB LLC, or just grabbing a quick snack at Thunderbird Drive Thru, Ed's 24 Hour Service is always a call away, ready to provide prompt and efficient towing assistance.
Our dedicated team is committed to ensuring your safety and convenience, no matter the time or place. With a reputation for reliability and a commitment to our community, Ed's is the name you can count on when you're in a jam.
For all your towing needs in Findlay, Ohio, make the smart choice – choose Ed's 24 Hour Service, your trusted local partner. We're here to get you moving again!  Transit Directions To Ed's 24 Hour Service
Our Team Is Proud To Work In Many Neighborhoods Throughout Findlay, OH Including:
45840 45839 45816 45881 45858 45814 45889 45868 45841 44804 45890 45867 45872 43529 45897 44802 44817 45877 45817
Check Out Some Of The Reviews From Our Happy Customers
"Alternator on my car went out over the holiday weekend, stranding my car (fortunately not me for very long) alongside I-75. They had me all set in about 10 minutes and at a very good price. The dispatcher was great to work with and my car was delivered to the repair shop without an issue."-Doug J.
Read More Reviews
"Had trouble with my large tool truck and needed towed. Called Ed's and they were there in no time. The tow truck operator was very professional and got me towed where I needed to be safe and sound."-Gary C.
"They are a life saver! We tried moving a 2 ton machine from another local business and got in a bind. Eric, the owner, just happened to drive by and offered to help for a very reasonable price. Josh Clark brought a forklift on a rollback and did a great job of loading everything on our trailer. I would definitely recommend them even if it's an unconventional job that just needs some help with a forklift for 15 minutes. They're very easy to work with and offered solutions we didn't know they offered."-Matt P.
Read More Reviews Here
At Ed's 24 Hour Service, We Offer A Wide Range Of Services, Including:
Towing Service
Emergency Towing
Commercial Tow Truck
Emergency Heavy Duty Mobile Repair
Emergency Tow Truck
Heavy Duty Tow Truck
Heavy Duty Truck Mobile Repair
Mobile Semi-Truck Repair
Truck Repair
About Findlay,OH
Nestled in the heart of Ohio's picturesque Hancock County, Findlay is a quintessential American city that effortlessly blends heartland charm with a vibrant and dynamic atmosphere. Known for its welcoming community and a rich history dating back to its founding in the early 19th century, Findlay has evolved into a thriving hub of culture, commerce, and creativity.
One of Findlay's standout features is its commitment to preserving its natural beauty. The city boasts several parks and green spaces, including the stunning Riverside Park, where you can stroll along the Blanchard River, enjoy a picnic, or take in a summer concert. Oakwoods Nature Preserve offers serene trails and wildlife observation, making it a haven for nature enthusiasts.
Findlay is also a center for education and culture. The University of Findlay, with its prestigious Mazza Museum dedicated to children's literature, draws scholars and art aficionados from near and far. The Hancock Historical Museum takes visitors on a journey through the region's fascinating past, showcasing its agricultural roots and industrial heritage.
Commerce thrives in Findlay, with a diverse economy that includes manufacturing, healthcare, and retail sectors. The city's strategic location at the intersection of major highways has made it a transportation and logistics hub, attracting businesses and providing ample job opportunities.
Local dining options range from down-home diners to upscale eateries, offering a culinary journey through Midwest flavors. And you can't leave without trying the famous Findlay Donuts – a local delicacy loved by all.
Findlay, Ohio, is more than a city; it's a community that values its history, embraces innovation, and welcomes everyone with open arms. It's a place where you can experience the best of small-town living while enjoying the opportunities and amenities of a modern city. Discover Findlay, and you'll find a warm and inviting place to call home.
Direction to Ed's 24 Hour Service