Commercial Tow Truck services for all of Marion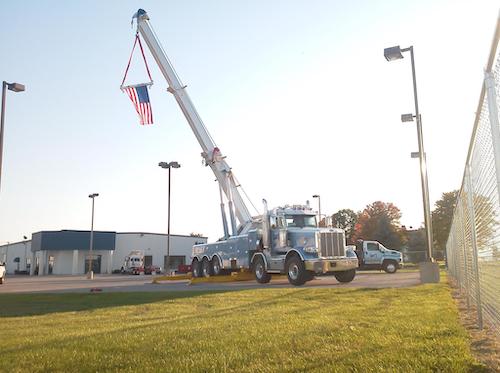 For nearly 40 years Ed's 24-hour service has served as the premier towing and recovery experts for all of Marion's heavy-duty vehicle emergencies. Our service-focused culture and training ensure that we quickly determine the best solutions to your needs and serve them up with unparalleled customer service at a moments notice. Our dedicated dispatch team answers calls 24 hours a day, seven days a week, so no matter what time your heavy-duty situation strikes, we'll help you out calmly, quickly, and efficiently. Whether your semi-truck was in an accident or your heavy-duty construction equipment or vehicle is stuck, we have the arsenal and the know-how to get you the maintenance, removal, and repair services you need. Our services are always available, and we're just a call away, so contact Ed's 24 Service today!
Marion's Comprehensive Emergency Roadside Service
Ed's 24 Hour Service boasts a large and extensively experienced staff to thoroughly handle any heavy-duty towing needs. Our technicians undergo a 90-day training program to guarantee we offer you the fullest and most effective road-side services possible. Our equipment and skills allow us to handle much more than towing your immobilized vehicle. The full scale of our services include:
Heavy-Duty Towing, Recovery, and Transportation
Our equipment allows us to carefully and quickly handle the movement of any large trucks or displaced cargo and equipment from wrecks or accidents. We use a rotator that easily handles up to 75 tons, allowing us to move any semi or construction equipment. We'll be sure to pull your vehicle of any kind from a wreck or stuck location, move it safely, and offer other repair or maintenance services to get you back on the road.
Our large tow truck fleet also includes transportation semi-trailer trucks that can transport anything from large construction equipment to trucks and vehicles. We'll move your property to and from anywhere in Marion with care, speed, and protection.
Full-Service Repair and Roadside Assistance
In addition to moving your vehicle and property, we can perform roadside maintenance and repairs on larger vehicles like semi-trucks. We use a massive multi-passenger vehicle to conduct these repairs and arrive equipped with heavy-duty vehicle repair equipment for any situation. Some of these additional roadside services include:
Tire repair and replacement – As a national account for Bridgestone, Michelin, and Goodyear, we're equipped with a massive inventory of tires that can replace any blowouts or damaged tires. We also offer used tires, recapping, and roadside repair for any of your tire-related needs.
Fuel delivery, lockout, and jump-starts – Minor obstacles strike at the worst times. Let us quickly solve these mishaps by delivering your fuel, jumping your battery, or popping the locks on your larger vehicle. We'll have you back to a smooth ride in no time.
Repair shop services – For damages and repairs that can't be performed at your roadside location, we can transport your vehicle to our repair shop for more extensive projects. We also offer maintenance services for everything from engine repair to electrical system services. Visit our shop for quick and easy computer diagnostic testing to thoroughly check and fix any hiccups in your vehicle's system before they become expensive problems.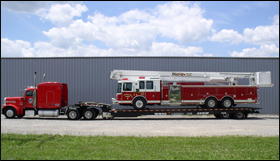 Local Towing Services Built for Marion
Ed's 24 Hour service knows the local Marion area like the back of our hands. We have regularly served residents here as if they were our own friends and family for nearly 40 years now. We've become Marion's first call when it comes to immediate roadside assistance for commercial vehicles. Call us at any hour, and we'll arrive anywhere in the Marion area in a matter of 30 minutes. No need to ever be stranded or stuck waiting on the road shoulder ever again.
Common Tow Truck Questions
What services do tow trucks provide?
Towing, tire changes, jump starts, gas delivery if someone runs out of gas, and winch outs of vehicles stuck in ditches or mud are all performed by Ed's 24 Hour Services drivers.
How do I request a tow truck?
You can request a tow truck by calling us at (419) 326-8154! Be prepared to provide your location, the type of vehicle you have, and the reason for the tow.
How much does it cost to tow a vehicle?
The cost of towing a vehicle varies depending on several factors, including the distance of the tow, the type of vehicle, and the time of day
What should I do if my car breaks down on the highway?
If your car breaks down on the highway, pull over to the side of the road as far as possible and turn on your hazard lights. Stay in your car with your seatbelt fastened until a tow truck or other assistance arrives.
Can a tow truck take my car if I'm not there?
In most cases, a tow truck can only take your car if it is illegally parked or if you have given permission for it to be towed. If your car is towed from private property, you should receive notice before it is removed.