Commercial Towing Near Me Services for all of Marion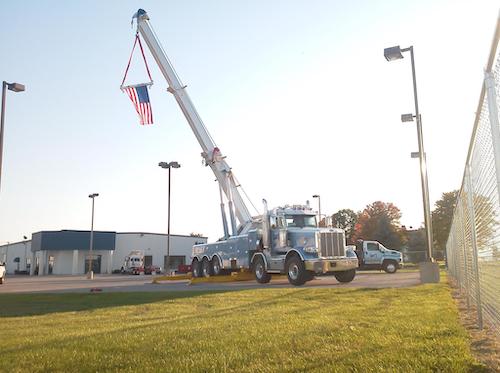 For nearly 40 years Ed's 24-hour service has served as the premier towing service and recovery experts for all of Marion's heavy-duty vehicle emergencies. Our service-focused culture and training ensure that we quickly determine the best solutions to your needs and serve them up with unparalleled customer service at a moments notice. Our dedicated dispatch team answers calls 24 hours a day, seven days a week, so no matter what time your heavy-duty situation strikes, we'll help you out calmly, quickly, and efficiently. Whether your semi-truck was in an accident or your heavy-duty construction equipment or vehicle is stuck, we have the arsenal and the know-how to get you the maintenance, removal, and repair services you need. Our services are always available, and we're just a call away, so contact Ed's 24 Service today for all your heavy-duty towing service needs as well!
Marion's Comprehensive Emergency Roadside Assistance Service
Ed's 24 Hour Service boasts a large and extensively experienced staff to thoroughly handle any heavy-duty towing service needs. Our technicians undergo a 90-day training program to guarantee we offer you the fullest and most effective road-side services possible. Our equipment and skills allow us to handle much more than towing your immobilized vehicle. The full scale of our services include:
Heavy-Duty Towing Service, Recovery, and Transportation for RV Towing, Motorhome Towing, and More
Our equipment allows us to carefully and quickly handle the movement of any large trucks or displaced cargo and equipment from wrecks or accidents. We use a rotator that easily handles up to 75 tons, allowing us to move any semi or construction equipment. We'll be sure to pull your vehicle of any kind from a wreck or stuck location, move it safely, and offer other repair or maintenance services to get you back on the road.
Our large tow truck fleet also includes transportation semi-trailer trucks that can transport anything from large construction equipment to motorhome towing or RV towing. We'll move your property to and from anywhere in Marion with care, speed, and protection.
Full-Service Repair and Roadside Assistance
In addition to moving your vehicle and property, we can perform roadside maintenance and repairs on larger vehicles like semi-trucks. We use a massive multi-passenger vehicle to conduct these repairs and arrive equipped with heavy-duty vehicle repair equipment for any situation. Some of these additional roadside assistance services include:
Tire repair and replacement – As a national account for Bridgestone, Michelin, and Goodyear, we're equipped with a massive inventory of tires that can replace any blowouts or damaged tires. We also offer used tires, recapping, and roadside repair for any of your tire-related needs.
Fuel delivery, lockout, and jump-starts – Minor obstacles strike at the worst times. Let us quickly solve these mishaps by delivering your fuel, jumping your battery, or popping the locks on your larger vehicle. We'll have you back to a smooth ride in no time.
Repair shop services – For damages and repairs that can't be performed at your roadside location, we can transport your vehicle to our repair shop for more extensive projects. We also offer maintenance services for everything from engine repair to electrical system services. Visit our shop for quick and easy computer diagnostic testing to thoroughly check and fix any hiccups in your vehicle's system before they become expensive problems.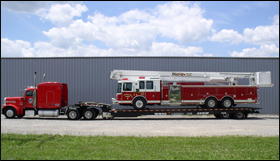 Local Towing Service Built for Marion
Ed's 24 Hour service knows the local Marion area like the back of our hands. We have regularly served residents here as if they were our own friends and family for nearly 40 years now. We've become Marion's first call when it comes to immediate roadside assistance for commercial vehicles. We transport large vehicles, RV towing, motorhome towing, construction equipment, and more. Call us at any hour, and we'll arrive anywhere in the Marion area in a matter of 30 minutes. No need to ever be stranded or stuck waiting on the road shoulder ever again.
Common Towing Service Questions
What services do tow trucks provide?
Towing, tire changes, jump starts, gas delivery if someone runs out of gas, and winch outs of vehicles stuck in ditches or mud are all performed by Ed's 24 Hour Services drivers.
How do I request a tow truck?
You can request a tow truck by calling us at (419) 326-8154! Be prepared to provide your location, the type of vehicle you have, and the reason for the tow.
How much does it cost to tow a vehicle?
The cost of towing a vehicle varies depending on several factors, including the distance of the tow, the type of vehicle, and the time of day
What should I do if my car breaks down on the highway?
If your car breaks down on the highway, pull over to the side of the road as far as possible and turn on your hazard lights. Stay in your car with your seatbelt fastened until a tow truck or other assistance arrives.
Can a tow truck take my car if I'm not there?
In most cases, a tow truck can only take your car if it is illegally parked or if you have given permission for it to be towed. If your car is towed from private property, you should receive notice before it is removed.
Ed's 24 Hour Service
Frequently Asked Questions About Towing
Does insurance cover towing services?
Some insurance policies may include roadside assistance or towing services, but it's important to check with your insurance provider to confirm coverage.
Can a tow truck take my car if I'm not there?
In most cases, a tow truck can only take your car if it is illegally parked or if you have given permission for it to be towed. If your car is towed from private property, you should receive notice before it is removed.
What should I do if my car breaks down on the highway?
If your car breaks down on the highway, pull over to the side of the road as far as possible and turn on your hazard lights. Stay in your car with your seatbelt fastened until a tow truck or other assistance arrives.
Ed's 24 Hour Service Is Proud To Be A Locally-Owned Business In Marion
Discover Marion, Ohio's hidden gem – Ed's 24 Hour Service. As a locally-owned company, Ed's offers more than just top-notch services; it's deeply intertwined with the essence of Marion itself. Nestled amidst a tapestry of local attractions, Ed's 24 Hour Service stands as a testament to community pride and heritage.
Located near the captivating Huber Machinery Museum, Ed's reflects Marion's industrial history and innovation. Just like the machinery showcased, Ed's operates with precision and dedication, serving the community around the clock.
Adjacent to the Buckeye Telephone Museum, Ed's also symbolizes seamless communication and reliability. In a world of constant connections, Ed's ensures Marion's residents are always just a call away from assistance.
And let's not forget the Oorang Indians Cardinal Sculpture – a symbol of unity and teamwork. Ed's 24 Hour Service exemplifies these qualities, working cohesively like a team to provide essential services when Marion's residents need them the most.
So, when you're in Marion, make sure to admire not only the attractions that shape the town's history but also the local heroes at Ed's 24 Hour Service, who continue to keep the community running smoothly, just like the well-oiled machines at the Huber Machinery Museum.
Direction to Ed's 24 Hour Service
Your Search For An Experienced Towing Service Near Me Is Over
Nestled in the heart of Marion, Ohio, Ed's 24 Hour Service stands as a beacon of reliability and assistance. As a cherished locally-owned establishment, Ed's is more than just a towing company – it's a lifeline for the community. With a diverse array of services, including towing, emergency towing, and commercial tow truck operations, Ed's is the go-to for prompt and professional solutions.
Situated conveniently close to vital local bus stops like Norfolk Southern, Tri State Transport LLC, and the Marion Transit Department, Ed's 24 Hour Service plays a crucial role in keeping Marion's transportation network fluid. Whether it's ensuring the smooth flow of commercial vehicles or coming to the rescue during emergencies, Ed's commitment to excellence shines bright.
Much like the synchronized rhythm of buses arriving and departing, Ed's team operates seamlessly to provide top-tier service around the clock. When Marion residents face vehicular challenges, they can rely on Ed's not just for towing but for a helping hand that's intricately woven into the fabric of the community.
Next time you're in Marion, take a moment to appreciate not only the bustling bus stops but also the unsung heroes at Ed's 24 Hour Service, who keep the wheels of the town turning – much like the wheels of the tow trucks that are always ready to roll when needed most. Transit Directions To Ed's 24 Hour Service
Our Team Is Proud To Work In Many Neighborhoods Throughout Marion, Including:
45840 45839 45816 45881 45858 45814 45889 45868 45841 44804 45890 45867 45872 43529 45897 44802 44817 45877 45817
Check Out Some Of The Reviews From Our Happy Customers
"Alternator on my car went out over the holiday weekend, stranding my car (fortunately not me for very long) alongside I-75. They had me all set in about 10 minutes and at a very good price. The dispatcher was great to work with and my car was delivered to the repair shop without an issue."-Doug J.
Read More Reviews
"They are a life saver! We tried moving a 2 ton machine from another local business and got in a bind. Eric, the owner, just happened to drive by and offered to help for a very reasonable price. Josh Clark brought a forklift on a rollback and did a great job of loading everything on our trailer. I would definitely recommend them even if it's an unconventional job that just needs some help with a forklift for 15 minutes. They're very easy to work with and offered solutions we didn't know they offered."-Matt P
"Ed, Nate, Ben, Criss, Bob what a great group of dedicated professionals. Let's not forget Kim holding things all together. Had an opportunity lately to ask these guys and gals give me a hand and couldn't be happier. Highly recommended."-Ed N.
Read More Reviews Here
At Ed's 24 Hour Service, We Offer A Wide Range Of Services, Including:
Towing Service
Emergency Towing
Commercial Tow Truck
Emergency Heavy Duty Mobile Repair
Emergency Tow Truck
Heavy Duty Tow Truck
Heavy Duty Truck Mobile Repair
Mobile Semi-Truck Repair
Truck Repair
About Marion
Nestled in the heart of Ohio, Marion exudes a captivating blend of rich history, vibrant culture, and community warmth. This charming city, with its tree-lined streets and welcoming atmosphere, invites both residents and visitors to explore its diverse offerings.
History comes alive in Marion, where the echoes of the past are celebrated at every corner. From the historic Harding Home and Presidential Center, commemorating the life of President Warren G. Harding, to the Marion County Historical Society showcasing local heritage, the city proudly preserves its legacy for all to experience.
Marion's cultural tapestry is woven with artistic threads, evident in the Marion Palace Theatre's captivating performances and the Marion Art Center's creative exhibitions. Festivals and events dot the calendar, fostering a sense of togetherness that defines the community spirit.
Nature enthusiasts find solace in Marion's parks and outdoor havens. The tranquility of Tallgrass Trail and the beauty of Sawyer Ludwig Park offer escape from the bustle of daily life. For those with a penchant for exploration, Quarry Park's unique terrain and the charms of the Marion Tallgrass Trail provide ample opportunities to connect with nature.
But it's the people of Marion who truly define its character. Warm smiles and friendly conversations are the norm, reflecting the genuine hospitality that sets this city apart. From the historic downtown district to the bustling local businesses, Marion is a place where everyone can find a welcoming embrace.
In Marion, the past meets the present in a harmonious blend, creating a city that's not only steeped in heritage but also poised for a vibrant future. Whether you're strolling through its historical sites, enjoying its cultural offerings, or simply savoring the warmth of its people, Marion, Ohio, is an experience that lingers in the heart and beckons you to return.