Commercial Towing Near Me Services for All of Upper Sandusky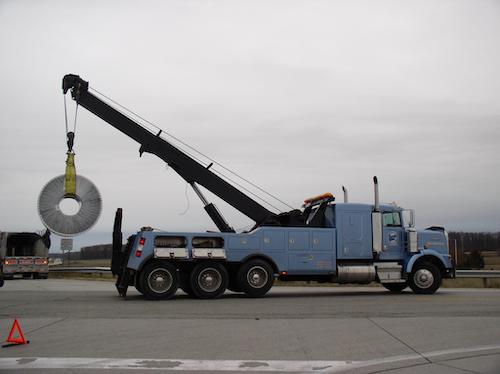 For nearly 40 years Ed's 24-hour service has served as the premier towing service and recovery experts for all of Upper Sandusky's heavy-duty vehicle and machinery emergencies. Our service-focused culture and training ensure that we quickly determine the best solutions to your needs and serve them up with unparalleled customer service at a moments notice. Our dedicated dispatch team answers calls 24 hours a day, seven days a week, so no matter what time your heavy-duty situation strikes, we'll help you out calmly, quickly, and efficiently. Whether your semi truck was in an accident or your heavy duty construction vehicle is stuck, we have the arsenal and the know-how to get you the maintenance, removal, and repair services you need. Our services are always available, and we're just a call away, so contact Ed's 24 Service today for all your heavy-duty towing service needs as well!
Upper Sandusky's Comprehensive Emergency Roadside Service
Ed's 24 Hour Service boasts a large and extensively experienced staff to thoroughly handle any heavy-duty towing service needs. Our technicians undergo a 90-day training program to guarantee we offer you the fullest and most effective roadside assistance services possible. Our equipment and skills allow us to handle much more than towing your immobilized vehicle. The full scale of our services include:
Heavy-Duty Towing Service, Recovery, and Transportation for RV Towing, Motorhome Towing, and More
Our equipment allows us to carefully and quickly handle the movement of any large trucks or displaced cargo and equipment from wrecks or accidents. We use a rotator that easily handles up to 75 tons, allowing us to move any semi or construction equipment. We'll be sure to pull your vehicle of any kind from a wreck or stuck location, move it safely, and offer other repair or maintenance services to get you back on the road.
Our large tow truck fleet also includes transportation semi-trailer trucks that can transport anything from large construction equipment to trucks and vehicles. We'll move your property to and from anywhere in Upper Sandusky with care, speed, and protection.
Full-Service Repair and Roadside Assistance
In addition to moving your vehicle and property, we can perform roadside maintenance and repairs on larger vehicles like semi-trucks. We use a massive multi-passenger vehicle to conduct these repairs and arrive equipped with heavy-duty equipment for any situation. Some of these additional roadside services include:
Tire Repair and Replacement – As a national account for Bridgestone, Michelin, and Goodyear, we're equipped with a massive inventory of tires that can replace any blowouts or damaged tires. We also offer used tires, recapping, and roadside repair for any of your tire-related needs.
Fuel Delivery, Lockout, and Jump-Starts – Minor obstacles strike at the worst times. Let us quickly solve these mishaps by delivering your fuel, jumping your battery, or popping the locks on your larger vehicle. We'll have you back to a smooth ride in no time.
Repair Shop Services – For damages and repairs that can't be performed at your roadside location, we can transport your vehicle to our repair shop for more extensive projects. We also offer maintenance services for everything from engine repair to electrical system services. Visit our shop for quick and easy computer diagnostic testing to thoroughly check and fix any hiccups in your vehicle's system before they become expensive problems.
Local Towing Service Built for Upper Sandusky
Ed's 24 Hour service knows the local Upper Sanddusky area like the back of our hands. We have regularly served residents here as if they were our friends and family for nearly 40 years now. We've become Upper Sandusky's first call when it comes to immediate roadside assistance for commercial vehicles. We transport large vehicles, RV towing, motorhome towing, construction equipment, and more. Call us at any hour, and we'll arrive anywhere in the Upper Sandsuky area in a matter of 30 minutes. No need to ever be stranded or stuck waiting on the road shoulder ever again.
Common Towing Service Questions
What services do tow trucks provide?
Towing, tire changes, jump starts, gas delivery if someone runs out of gas, and winch outs of vehicles stuck in ditches or mud are all performed by Ed's 24 Hour Services drivers.
How do I request a tow truck?
You can request a tow truck by calling us at (419) 326-8154! Be prepared to provide your location, the type of vehicle you have, and the reason for the tow.
How much does it cost to tow a vehicle?
The cost of towing a vehicle varies depending on several factors, including the distance of the tow, the type of vehicle, and the time of day
What should I do if my car breaks down on the highway?
If your car breaks down on the highway, pull over to the side of the road as far as possible and turn on your hazard lights. Stay in your car with your seatbelt fastened until a tow truck or other assistance arrives.
Can a tow truck take my car if I'm not there?
In most cases, a tow truck can only take your car if it is illegally parked or if you have given permission for it to be towed. If your car is towed from private property, you should receive notice before it is removed.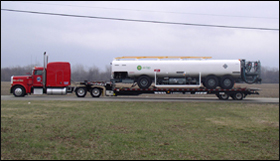 Local Towing services Built for Upper Sandusky
Ed's 24 Hour service knows the local Upper Sandusky area like the back of our hands. We have regularly served residents here as if they were our own friends and family for nearly 40 years now. We've become Upper Sandusky's first call when it comes to immediate roadside assistance for commercial vehicles. Call us at any hour, and we'll arrive anywhere in the Upper Sandusky area in a matter of 30 minutes. No need to ever be stranded or stuck waiting on the road shoulder ever again.
Ed's 24 Hour Service
Frequently Asked Questions About Towing
How do I know if my car needs to be towed?
If your car won't start, has a flat tire, or has been in an accident, it may need to be towed.
Can a towing service tow my car long distance?
Yes, we offer long-distance towing services for vehicles that need to be transported across the state or country.
What types of vehicles can a towing service tow?
Towing services can tow cars, trucks, SUVs, motorcycles, boats, RVs and more.
Ed's 24 Hour Service Is Proud To Be A Locally-Owned Business In Upper Sandusky
Nestled in the heart of Upper Sandusky, Ed's 24 Hour Service stands as a beacon of reliability and community dedication. As a locally-owned company, Ed's has been an integral part of the town's fabric for years, serving its residents with unwavering commitment.
Strategically located near the iconic Indian Mill, a cherished historical site that captures the essence of Native American heritage, Ed's 24 Hour Service offers more than just assistance – it offers a connection to the area's rich past. The company takes pride in its partnership with the Wyandot County Historical Society, reflecting its deep respect for the town's history and culture.
But that's not all; Ed's commitment extends to the tranquility of Stepping Stones Park, a serene oasis within reach. Whether you're enjoying a leisurely stroll or embarking on an adventurous exploration, knowing that Ed's is available 24/7 brings an unparalleled sense of security.
Ed's 24 Hour Service is more than a business; it's a testament to the tight-knit community of Upper Sandusky. With a keen understanding of the town's pulse and a location proximate to Indian Mill, the Wyandot County Historical Society, and the beauty of Stepping Stones Park, Ed's remains an indispensable companion for both residents and visitors alike.
Direction to Ed's 24 Hour Service
Your Search For An Experienced Towing Service Near Me Is Over
Locally owned and deeply embedded in the Upper Sandusky community, Ed's 24 Hour Service is your go-to partner for a comprehensive range of services. Specializing in Towing Service, Emergency Towing, and Commercial Tow Truck operations, Ed's is synonymous with efficiency and reliability.
Conveniently situated near key local bus stops, including the bustling Pilot Travel Center and the vital S Ts Transit Inc, Ed's 24 Hour Service ensures that your towing needs are met promptly and professionally. Whether it's a last-minute emergency or a planned commercial transport, their expert team is primed to assist with top-notch service.
Moreover, Ed's strategic proximity to the CAT Scale hub further underscores their commitment to precision and attention to detail. When you choose Ed's, you're not just choosing a towing service – you're choosing a partner that understands the pulse of the local transportation landscape.
In a town where timely assistance matters, Ed's 24 Hour Service stands tall, offering an unparalleled blend of convenience, expertise, and community spirit. When the unexpected happens, trust Ed's to be by your side, ready to provide top-tier towing solutions that keep Upper Sandusky moving forward.  Transit Directions To Ed's 24 Hour Service
Our Team Is Proud To Work In Many Neighborhoods Throughout Upper Sandusky, Including:
45840 45839 45816 45881 45858 45814 45889 45868 45841 44804 45890 45867 45872 43529 45897 44802 44817 45877 45817
Check Out Some Of The Reviews From Our Happy Customers
"Alternator on my car went out over the holiday weekend, stranding my car (fortunately not me for very long) alongside I-75. They had me all set in about 10 minutes and at a very good price. The dispatcher was great to work with and my car was delivered to the repair shop without an issue."-Doug J.
Read More Reviews
"Had a break down on the way to Michigan. Penske SOS got me in touch with Eric at Ed's 24 hour service. These guys were great! Had to wait a few days for parts to come in, which was no fault of theirs. Less than 24 hours after parts arrived I was back on the road. Job well done! I highly recommend these guys if you're in the area and need work done give Ed's a call."-Tommy B
"Awesome people! Came and rescued my 4 kids and I when we broke down 7 hrs from home! The receptionist was soo sweet!! Wasn't expensive either!"-Michelle B.
Read More Reviews Here
At Ed's 24 Hour Service, We Offer A Wide Range Of Services, Including:
Towing Service
Emergency Towing
Commercial Tow Truck
Emergency Heavy Duty Mobile Repair
Emergency Tow Truck
Heavy Duty Tow Truck
Heavy Duty Truck Mobile Repair
Mobile Semi-Truck Repair
Truck Repair
About Upper Sandusky
Nestled in the heart of Ohio, Upper Sandusky stands as a testament to the harmonious blend of rich history and modern vibrancy. This idyllic town, with its population's warmth and welcoming spirit, offers a captivating glimpse into small-town American life.
Famous for its picturesque landscapes and charming streets, Upper Sandusky boasts a serene ambiance that captivates both residents and visitors. The town's historical significance is palpable, as it was a pivotal crossroads for settlers and travelers in the 19th century. Amid the tranquil surroundings, historical markers and preserved architecture tell stories of a bygone era, while a progressive community ensures these stories continue to thrive.
Upper Sandusky's heart beats with a sense of unity and community pride. Residents come together for a plethora of local events, from lively festivals that celebrate the town's heritage to modern gatherings that foster connections among neighbors. The town's bustling Main Street is a testament to entrepreneurial spirit, lined with boutique shops, cozy cafes, and locally owned businesses that offer a unique shopping and dining experience.
Surrounded by the beauty of nature, Upper Sandusky provides abundant opportunities for outdoor enthusiasts. Parks, trails, and recreational facilities cater to those seeking to immerse themselves in the tranquility of the Ohio landscape. The nearby scenic rivers and forests create a haven for nature lovers, inviting exploration and relaxation alike.
In Upper Sandusky, past and present coalesce seamlessly, offering a community that cherishes its history while embracing the promise of the future. Whether strolling along its historic avenues, engaging in community festivities, or simply enjoying the natural splendor, Upper Sandusky welcomes all to share in its timeless charm and modern allure.