Findlay's Complete Commercial Towing Near Me Service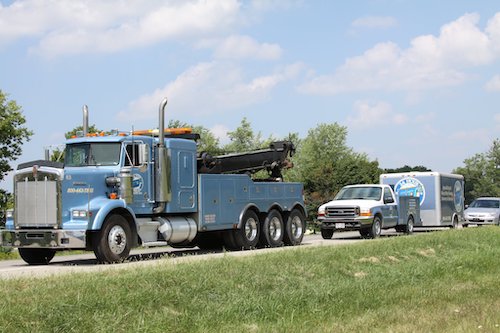 Ed's 24 Hour Service has served the Findlay area for nearly 40 years with complete towing services for any and all commercial roadside assistance needs. Our large fleet of vehicles and on-call staff ensures premium services for any commercial breakdowns, maintenance, or moving. Our 90-day training program and service-focused culture ensures that any technician who arrives to help you will have a comprehensive breakdown of efficient solutions to your problems. Our large vehicle fleet and repair inventory will also offer an ideal and affordable solution to any of your roadside roadside dilemmas.
Immediate Commercial Towing Service that Findlay can Count On
Ed's 24 Hour Service maintains a dedicated dispatch staff to ensure that we immediately answer Findlay's emergency needs at any time of day or night. Our large fleet of tow trucks allows us to arrive at any customer's area within 30 minutes after a service request. Our tow trucks are also equipped with a 75-ton rotator that easily moves any large load from a wreck or stuck position, so you can always count on us to get you out of a pinch. Our technicians conduct roadside assistance for commercial vehicles as well, ensuring that we'll have you back on the road whether you need a quick tow, maintenance, or repair.
Breakdowns never happen at a convenient time, but our immediate and wide-ranging services will ensure that you get back to your drive quickly, permanently, and stress-free.
We Service Motorhome Towing and RV Towing
We specialize in motorhome towing and RV towing services. Whether you need a tow for a small camper or a large motorhome, we have the equipment and expertise to handle the job.
Our team of experienced tow truck operators is trained in safely and efficiently towing motorhomes and RVs of all sizes. We understand the unique challenges and considerations that come with towing these types of vehicles, such as weight distribution and clearance requirements.
When you choose our motorhome towing services, you can expect prompt and reliable service. We have a fleet of well-maintained tow trucks equipped with the necessary tools and equipment to safely secure and transport your motorhome or RV. Our operators will take the utmost care in handling your vehicle to ensure that it reaches its destination in the same condition it was picked up.
Comprehensive Roadside Assistance Services for all Commercial Vehicles in Findlay
Tire repair and replacement – As a national account for Bridgestone, Michelin, and Goodyear, we're equipped with a massive inventory of tires for commercial vehicles that can replace any blowouts or damaged tires. We also offer used tires, recapping, and roadside repair for any of your tire-related needs.
Fuel delivery, lockout, and jump-starts – Minor obstacles strike at the worst times. Let us quickly solve these mishaps by delivering your fuel, jumping your battery, or popping the locks on your larger vehicle. We'll have you back to a smooth ride in no time.
Repair shop services – For damages and repairs that can't be performed at your roadside location, we can transport your commercial vehicle to our repair shop for more extensive projects. We also offer maintenance services for everything from engine repair to electrical system services. Visit our shop for quick and easy computer diagnostic testing to thoroughly check and fix any hiccups in your vehicle's system before they become expensive problems.
Specialized Transportation – From construction vehicles to large pieces of commercial equipment, our transportation trucks and expert experience in commercial towing service allow us to move any of your property with the safety and efficiency it deserves.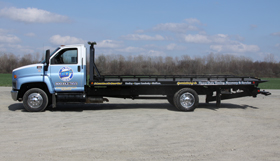 We understand how stressful any commercial vehicle breakdown can be, and we approach each call with proactive and genuine care. Ed's 24 Hour Service is Findlay's first call when it comes to immediate roadside assistance for commercial vehicles. We're known for our expansive services that cover any commercial vehicle needs within the 50-mile radius of Findlay. Our customer service and desire to solve your vehicle problems permanently and affordably set us apart in the commercial towing service world.
We also service RV towing and motorhome towing for those who need it.
We also service RV towing and motorhome towing for those who need it.
We know once you call us, you'll have peace-of-mind that your search for towing near me is on the way.