Emergency Commercial Towing Service is Just a Call Away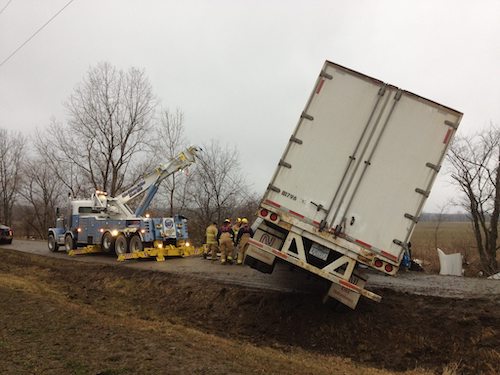 Ed's 24 Hour Service is the first call for Findlay's emergency repairs when it comes to dealing with major commercial vehicle breakdowns. Between our extensively experienced and dedicated staff, our deep fleet of commercial towing service trucks, and our massive inventory of commercial repair equipment, we know we can solve any and all of Findlay's emergency towing near me needs. Our service-focused staff is trained to listen to and diagnose any issues with your commercial vehicle and equipment and ultimately determine the most efficient and cost-effective solution to your call. Each of our technicians undergoes a 90-day training program that guarantees they can thoroughly and quickly assess your situation and get you the help you need.
We staff our phone lines 24 hours a day, seven days a week, ensuring we can send reliable commercial towing service and repair technicians to your Findlay location within a matter of 30 minutes.
Motorhome Towing and RV Towing Emergencies
Motorhome Towing and RV Towing Emergencies services provide essential assistance to recreational vehicle owners who encounter unexpected breakdowns or accidents while on the road. These services offer specialized towing equipment and experienced operators who are trained to handle the unique challenges of towing large, heavy motorhomes and RVs.Whether it's a flat tire, engine failure, or any other roadside emergency, Motorhome Towing and RV Towing Emergencies services ensure that stranded RV owners can get their vehicles safely towed to a repair facility or a desired location.
Findlay's Comprehensive Mobile Semi Truck Repair
When it comes to heavy-duty towing service and repair, our equipment and staff arrive with a complete arsenal of maintenance resources and know-how for your commercial semi-truck needs. Our multi-passenger vans are equipped with a large inventory for semi truck repair, and our rotator can easily handle loads up to 75 tons for pulling your vehicle and cargo from wrecks and other incidents. No matter the size of your mobile commercial truck, we have the tools to move and repair it.
Some of Our Key Services for Findlay's Mobile Semi Truck Fixes
Tire Repair and Replacement – As a national account for Bridgestone, Goodyear, and Michelin, Ed's 24 Hour Service carries a huge inventory of new and used tires and tire repair products from these premier brands. Whether your tire needs to be completely replaced, or your mobile semi-truck is in need of tire repairs or recapping, we have the roadside assistance and in-house resources and man power to get the job done quickly
Roadside Assistance– From fuel delivery to jump starts, give us a short call and our quick and efficient staff can deliver these smaller services to get you safely back on the road as soon as possible. we also offer roadside mobile semi truck repairs like electrical systems and engine maintenance. We can even repair your semi's trailer!
Full-Service Repair Shop – Our full-scale vehicle repair shop offers a huge array of on-site services for your mobile commercial truck. From computer diagnostics to replacing parts, we can solve any immediate issue your vehicle is having and even spot potential ones before they become expensive problems. We also offer preventative maintenance and annual inspections with a rapid turnaround time.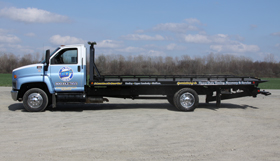 The Towing Near Me Service Choice for Findlay's Commercial Truck Repair Needs
Ed's 24 Hour Service knows the local Findlay area like the back of our hands. We have regularly served residents here as if they were our own friends and family for nearly 40 years now. At this point, we've become Findlay's first call when it comes to immediate roadside assistance for commercial vehicles. Call us at any hour, and we'll arrive anywhere in the Marion area in a matter of 30 minutes. No need to ever be stranded or stuck waiting on the road shoulder ever again.