Mobile Repair Service When You Need It Most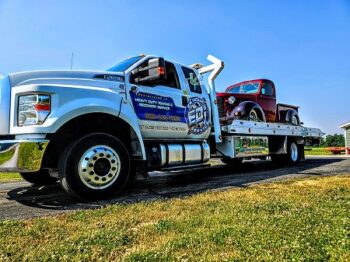 For more than five decades, Ed's 24 Hour Service has been dedicated to delivering complete roadside assistance for commercial vehicles and trucks. With our team of certified diesel mechanics and state-of-the-art equipment, we have the expertise to diagnose and fix any issue, ensuring that your truck gets back on the road quickly.
But we don't just stop at repairs. We offer a wide range of services to meet all your truck repair needs, from preventative maintenance to load corrections and annual inspections. Our mobile scan diagnostics for various truck brands, including Mack, Caterpillar, Hino, Cummins, Volvo, Ford, Chevrolet, Dodge, International, Isuzu, and more, ensure that we can handle any problem that comes our way. So, the next time your truck has a problem, don't hesitate to give us a call.
Get Emergency Roadside Assistance Today
We understand that needing truck repairs can be stressful, but with Ed's 24 Hour Service, we can provide mobile truck repair services anytime, ensuring that your needs are met promptly and efficiently. Our team of diesel mechanics is experienced in locating the source of the problem quickly, allowing for swift repairs. Whether you need help with your electrical systems, engine maintenance, or trailer & tire repair service, we have the expertise to handle it all.
Our fully-equipped vehicle repair shop is equipped with computer diagnostics and replacement parts to ensure accurate and efficient repairs. And if your truck can't make it to the shop, our heavy towing team and equipment can handle even the largest trucks and displaced cargo.
Trust Ed's 24 Hour Service for all your mobile truck repair needs.
Fast and Reliable Truck and Semi Tractor Trailer Repair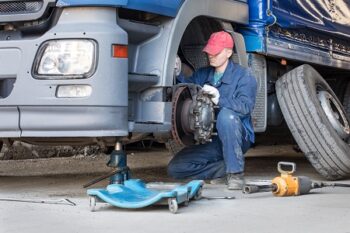 With Ed's 24 Hour Service, our team provides a wide range of solutions for any truck-related issue. We understand the importance of keeping your truck on the road, which is why we offer services such as fuel delivery, jump starts, and roadside mobile repairs. Our certified diesel mechanics are experts in locating the source of the problem quickly, ensuring minimal downtime for your truck. In addition to electrical system and engine maintenance, we also offer services like exhaust repair, steering repair, and transmission repair. 
Covering a service area of 50 miles, we boast a substantial fleet of vehicles and a responsive dispatch team, enabling us to promptly recover and skillfully repair any stranded vehicle within the region. Our team consists of highly-trained technicians who undergo a rigorous 90-day certification program in emergency roadside assistance and comprehensive maintenance. Available round-the-clock, our experts are ready to provide reliable 24-hour commercial road service, ensuring your vehicle reaches its destination without delay.
Your Search For Truck Repair Near Me Is Over
Our team at Ed's 24 Hour Service is equipped with state-of-the-art technology and a fleet of heavy towing vehicles to handle any equipment-related issue that may arise. We understand the importance of having the right tools and expertise to effectively repair and maintain trucks of all sizes.
Our certified diesel mechanics have the knowledge and experience to quickly locate the source of the problem and provide efficient solutions. Additionally, we have a variety of specialized equipment, including a rotator that can handle up to 75 tons to safely handle the movement of large trucks and displaced cargo. Our transportation semi-trailer trucks are also available for transporting large equipment. With our advanced diagnostic capabilities and comprehensive repair services, we're fully prepared to meet all your truck repair needs. Call Ed's 24 Hour Service today!